Doing The Same Thing, Expecting Different Results
Check out this image by Andy Singer: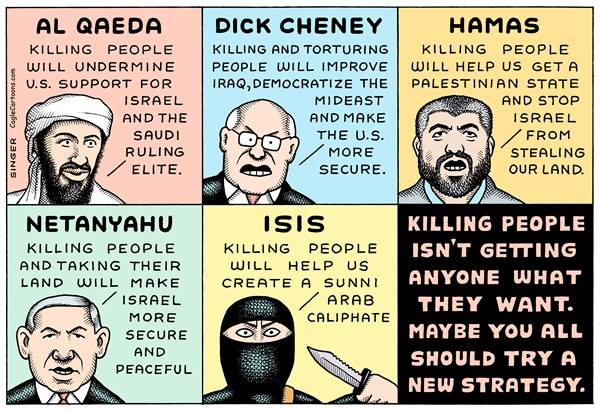 What do you think? Please leave a comment below.
What I Think
A small fraction of what even just the USA–just one country–spends on military could provide food, clothes, shelter, quality education and healthcare for all. This has so much to do with 18,000 children dying each day–each day–of world hunger. Children. To roughly paraphrase long dead philosophers, freedom from violence is the mother not the daughter of order. At least, that's what I think. What do you think? Please leave a comment below.
If you like my post, please do this (free and easy)
Posted by
Scott Hughes
| Categories:
Politics and Commentary
|

About Scott Hughes
I am the author of Achieve Your Dreams. I also published the book Holding Fire: Short Stories of Self-Destruction. I have two kids who I love so much. I just want to be a good role model for them. I hope what I do here makes them proud of me. Please let me know you think about the post by leaving a comment below!