Transcontinental Humanitarian Expedition
Chris Sorbi recently contacted me about his Transcontinental Humanitarian Expedition. He's going around the world on his motorcycle to raise awareness about world hunger. He travels around on his motorcycle while also posting updates about his expedition and about hunger in general.
I love the idea! First of all, I think motorcycles are cool. More importantly, it's working. He gets press coverage, and he's on the ground talking to people personally about these issues. I bet he has inspired lots of people to donate and get more involved.
I have read through quite a bit of his website and subscribed to his feed. His passionate shows in his writing.
I really like that Chris understands and stresses that the problem stems from social and political issues not a lack of food or global wealth. For instance, on his mission page he wrote, "Although our planet produces twice the amount of food needed to feed its population, we still have a crisis in every developing, and under-developed country."
On his most recent post, he made a great point by showing how little attention the world's biggest killer, world hunger, gets compared to other problems that kill significantly less people: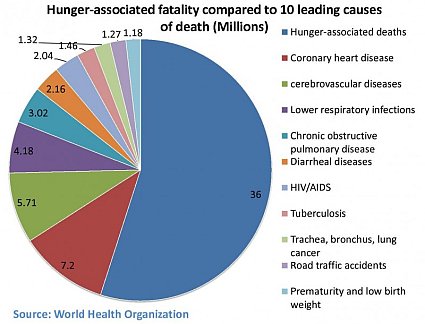 Sadly, I think it will be a long time before politicians finish spending their time doing favors for special interests instead of actually helping fix the fixable problem of world hunger, the world's number 1 killer.
Luckily we have folks like Chris.
If you like my post, please do this (free and easy)
Posted by
Scott Hughes
| Categories:
Ways To Help
|

About Scott Hughes
I am the author of Achieve Your Dreams. I also published the book Holding Fire: Short Stories of Self-Destruction. I have two kids who I love so much. I just want to be a good role model for them. I hope what I do here makes them proud of me. Please let me know you think about the post by leaving a comment below!